The road of Georgian Basketball to Eurobasket – Part XI – Legionnaires of the national team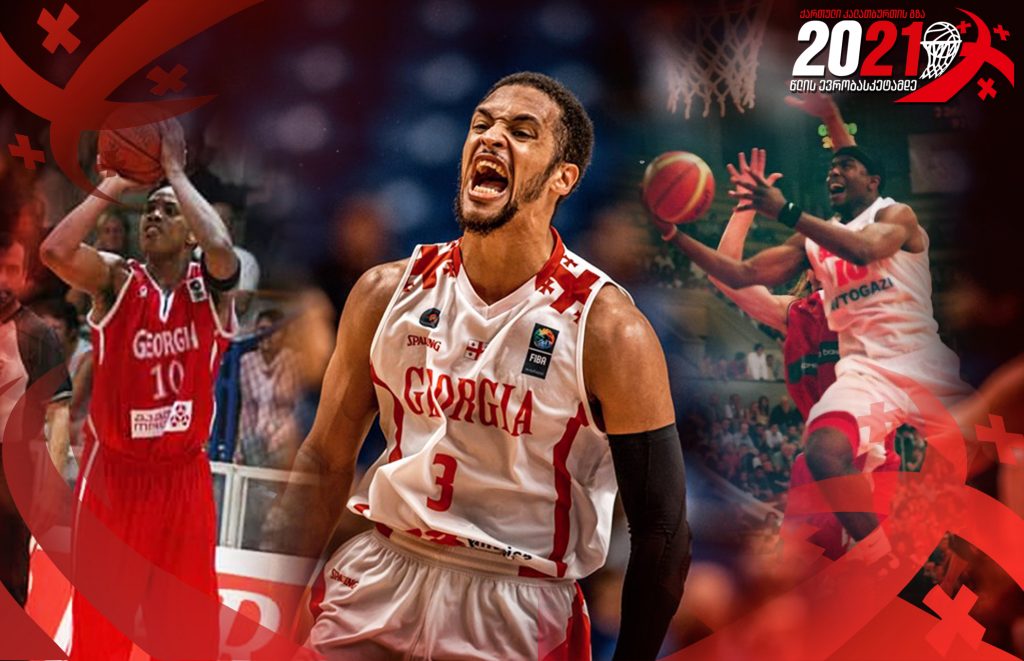 A special project on the history of Georgian basketball, that aims to showcase the work of our national team members, continues.In the framework of the project "The Road of Georgian Basketball to Eurobasket 2021" we have introduced a large part of the members of the independent Georgian team and before we move on to the current players and those who recently finished playing, you are presented with the legionnaires of the Georgian national team. 9 naturalized Americans have played in our team until today.
Part XI – from Williams to Janning – 9 Americans in Georgian national team
We will probably see a new Americanin the Georgian national team at the European Championship. Who will be the tenth legionnaire in the history of the "Crusaders"? Experienced like Shammond Williams? Is he going to help us with three-pointers as Tyrone Ellis did? Or is he going to play as diligently as Michael Dixon?
It's difficult to answer these questions today, but it is easy to overlook the recent history of the Georgian national team and remember how Shammond, Tyrone, and other Americans helped us.
Shammond Williams
Shammond Williamsonwas the first swallow from naturalized players. One fun story willshowyou his character: during the San Giorgio tournaments, players went to one of the trainings by taxi.
It turned out that one person was extra and the team had to rent a separate car for him. Williams didn't let them call an extra taxi, he lugged the car and got inside, said that he could fit in well…
Shammond's first blitz interview:
– I played with Stephania in Seattle, with Pachulia in Orlando and with Tskitishvili in Denver. I knew from Nika and Zaza that you have a good team and set serious goals. When Stephania called me and asked for help in the European Championship qualifiers, I was happy to agree. Additionally, I was very interested in getting to know your country.
Tyrone Ellis
On August 6, 2006, Gordon Herbert, head coach of the national team, invited us to a press conference and presented a new member of the team:
– I was working with Tyrone Ellis in the German Skyliners. He is a strong basketball player and a good person. We are fortunate to bring such player.
Williams moved to Barcelona in 2005, and the club's leadership had trouble to let him in the national team. The following year, Tyrone Ellis replaced Shammond.
It's said, the coaches will come and go, but the sand will stay … Many coaches left the national team in 2005-2009, while Ellis proved to be worthy to stay in the team – he was wearing the Georgian national team jersey with Georgian flag for three years.
"Herbert brought me up because I always put the interests of the team ahead of my own," Ellis began with this, and in 2009 he finished the following way:
– Did I play for the passport in the Georgian national team? No, I play because I love basketball and also because I'm a member of one big family, Georgian national team.
When we won A division ticket, Tyrone said with pride, that he was Elisashvili. This phrase might sound ironic from some Americans, but not from Tyrone …
Taurean Green
As we told you, Ellis played with us including 2009. The following season, he apologized to the basketball federation – his wife was expecting a baby and he should have been with her in the summer.
That's why Taurean Green defended our team's dignity in 2010. Before that, however, there were two Americans: Melvin Senders and Quinton Hosley.
The first one was granted Georgian citizenship in 2007, but has not arrived in our country.
Hosley received a Georgian citizen's passport with Green in 2010. Vladimir Boisa then missed the national team and it was Quinton who had to replace Vova.
He also took part in friendly matches, though Igor Kokoshkov gave preference to Greene for the official matches and Hosley said goodbye.
Marquis Hanse
Marquis Hanse helped us at the 2011 European Championship. He still fondly recalls two months spent in the Georgian national team:
– It was interesting to play at the European Championship. Georgia has a strong squad, players have been side by side for years and got used to each other very well. I was trying to be part of the team as well, not taking the game upon myself.
On September 6, 2011, Marquis was celebrating going to the second stage of the Eurobasket along with others under the Georgian flag. However, the cooperation with him turned out to last just one year.
Jacob Pullen
As we had an experience from previous years, many Georgians were sceptical about Jacob Pullen appearing in the national team, as he was inexperienced in Europe.
However, we should still be grateful that Pullen was selected in 2012 and not Corey Fisher. Like the Green-Hosley case, two Americans were brought in 2012 as well. The one who would justify in control matches, would compete in the qualifiers.
…Pullen stayed. He averaged 16.4 points and had great three-pointers.
After three years, Jacob returned to Georgian national team for Eurobasket 2015. We can't say that he didn't play well, but neither can we say that he did what we expected from him. he was averaging 7.2 points per game.
Ricky Hickman
In 2013, we saw two Americans again at the national team trainings – Luke Zeller and Ricky Hickman. It was said that we have brought tall Zeller, because Zaza Pachulia and Tornike Shengelia could not play at the Eurobasket, but it was clear in advance – that Luke would not play at the Eurobasket.
reason? – Hickman! He was one of the best backs in the Euroleague in the Maccabi squad, and when you have right to put just one naturalized player in the roster, you can't put Zeller ahead of Hickman.
"In the absence of Tornike Shengelia and Zaza Pachulia, the youth will be more loaded and I will support them to fully show their opportunities," – said Hickman before Eurobasket 2013.
He was really helping our players at the European Championship, but we needed more support from such an experienced man… Igor Kokoshkov, however, told us that the injury prevented him from opening thoroughly.
in 2014, Ricky wasn't able to arrive to the qualifiers because of an injury.
Michael Dickson
– I am often told, that I'm second Ellis, I know that he has played for four years, he has done a lot for the Georgian national team, but there were other players of the same high level. Why do they still compare me to Ellis? – Michael Dixon asked us in 2016.
The reason is simple: after a long time, we managed to escape from the second division together with Ellis; The second reason – Tyrone was helping the Georgian team from the perimeter, he wasn't shooting a lot, but would always score 3-4 three-pointers. And another reason – he was playing for the team, never putting his own interests ahead of the team.
That is exactly what Michael Dixon looked like. He did great job for the Georgian national team. According to the contract, he had to play two years, but he stayed for the third year too. For the third year, at the World Cup qualifiers, fans finally fell in love with him, and many were heartbroken when he couldn't come for the third window.
Michael repeated Zaza Pachulia's record in November – scoring 36 points against Serbia. In this qualifying he used to score 27 points in 36.6 minutes…
If Ellis bombed the echelon teams with three pointers, Dixon used to do so at the Eurobasket qualifiers and European championships. We will remind you the last minutes of Eurobasket matches against Lithuania, Israel… The most memorable match, however, was in Montenegro – It was Dixon who scored a significant long range shot before Sanikidze's amaizing three-pointer. He reached 31 points in that meeting. We defeated Montenegro on their own court and went to Eurobasket 2017 with the first place.
Thaddeus McFadden
– I can't compare McFadden with Dixon, that won't be right. The positive side of Thad is that he is just a good basketball player, – said Ilias Zouros in June 2018.
Thad McFadden has appeared in Georgian national team on the qualifying stage of the World Cup 2019. He played against Serbia and Austria in summer, missed the September window, then helped us out in four more games.
An average of 16.3 points and 3.3 assists – is a wonderful result, but we should remember that this was the period when the misundersanding between the Euroleague and FIBA forced us to change roster in almost every window.
McFadden is a participant of one of the best matches of the national team in the previous years: we defeated Israel in Tbilisi 71:69. Thad recieved the ball in the final second, assisted to Giorgi Shermadini, who eventually scored a winning 2-pointer.
– Both teams did their best and that is why it turned oout such a tense match. It was a great match and I am pleased that we made Georgian fans happy, – said Thad McFadden.
Matt Janning
In his first interview with Lelo, Matt Jenning said:
– Georgian players are distinguished from others with their purposefulness. At this point they are remarkable not only on the court, but also with their families and friends… I have also observed that the Georgians trully love all those around them. It is because of these qualities that Tornike Shengelia means so much to Baskonia, he's a heart of the team. Viktor Sanikidze has such an aura as well. Therefore, it was pleasure to be with Victor in one team and to fight with Shengelia for high goals now. I have already mentioned: When I got the chance to play in Georgia, I didn't think lot.
Viktor Sanikidze's former and Tornike Shengelia's current teammate – Matt Janning held 2 matches in the Georgian national team in September 2018. He would play more, if not a misunderstanding between the Euroleague and FIBA. We won't see hem on the Eurobasket qualifiers either.
However, he has 2 super-matches with the Georgian national team to remember – the one, which we won – 85:80 in Israel and the one that we lost in Tbilisi against Greece 85:86. Although our head coach Ilias Zouros said – we deserved victory in that match.